Spring Chicken Dinner Drive Thru
Sunday April 25, 2021 3-7pm
Our Spring Chicken Dinner will be a drive thru only event with a fixed menu. You will get half a chicken, green beans, mashed potatoes with gravy, and corn. To order your meal(s) follow the link below to Sign Up Genius, select your desired pick-up time and the number of meals you would like. After making your order, the follow-on page will have a link to pay by credit card. We will not be accepting cash or checks for this dinner. After you have ordered and paid, all you have to do is come to the Parish Center at your designated time and we will deliver your meal(s) directly to your car.
To prevent traffic congestion, we have limited the number of orders per time slot. Place your order early in order to secure your desired pick up time.
All orders and payment must be completed by April 19th.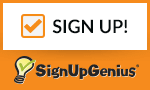 Want to volunteer to help? Sign up HERE
In person Mass sign-up
MAKE A RESERVATION FOR MASS ON SUNDAY, April 25 - 4th Sunday of Easter:

We are pleased to invite you to attend:
9:00 am Mass at Corpus Christi
10:30 am Mass at St Joseph.

Please note that the obligation to attend Sunday Mass is still dispensed.

Mass will continue to be live streamed at 9:00 am with the video available to view for 48 hours.

Reservation form for both St Joseph and Corpus Christi:
You may also call St. Joseph's Office at 618-537-2575 or Corpus Christi's Office at 618-632-7614 to request a reservation.
Requests for reservations will be available until 12pm on Friday. Reservations will be confirmed by 5pm Saturday.
Walk up seating may be available as space allows.
April 18th Mass
Mass Times
Saturday 5:00 PM - Cancelled until further notice
Sunday 9:00 AM - In person and live streamed
Sunday 6:00 PM - Cancelled until further notice

Sunday 10:30 AM - In person at St. Joseph - Lebanon

Reservations are highly encouraged but not required for all in person Masses. Please call the parish office to make a reservation.
Office Hours
Monday thru Thursday - 8:00 AM to 4:00 PM
Friday - 8:00 AM to 12:00 PM
Office Phone: 618-632-7614
Rectory Phone: 618-632-5631
Email:
[email protected]
Vatican News
04/20/21 3:00 pm
04/20/21 2:19 am
04/19/21 12:15 pm